Pikes Peak Speedway is a 2.81-mile road course in Manitou Springs, Colorado.
Description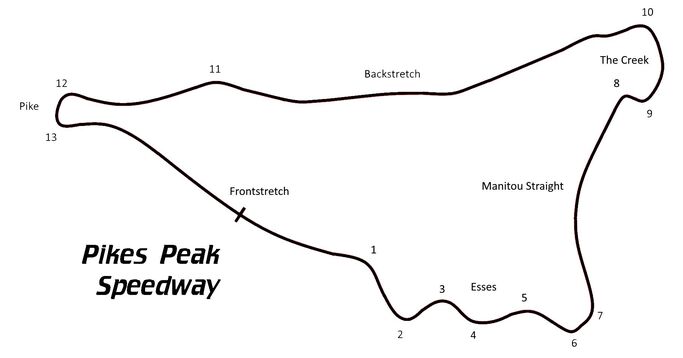 The frontstretch is almost level, leading slightly left toward Turn 1 and the beginning of the uphill.
Turns 1 through 6 are the Esses, a right-left-right-left-right-left combination that slowly gets less severe as it progresses, but almost continually uphill. Turn 7 is a second left-hand apex leading up into Manitou Straight, a level-to-slightly-descending straightaway that bends right.
Out of the bend in Manitou Straight, competitors are greeted with what has been called the "most scenic section in the Western Cup," known as the Creek. It's a right-left-left combination of corners that crosses a creek and encircles a pond with a small waterfall entering it from the left. Turn 8 is a sharp 90-degree right-hander, followed immediately by Turn 9, which crosses the creek on a wooden bridge. The stretch to Turn 10 bends left around the pond, which is a hard left-hander that leads up to the top of the waterfall. The incline is steep, but only momentary.
The track then goes through a slight right-left kink before entering the backstrech, or the "Not-So-Straight." The straight is broken into three sections by two right-hand bends. The majority of the straight is a gentle downhill leading with Pikes Peak silhouetted in the distance.
Turn 11 is a sharp left-hander that leads into a curving right-hand correction. Pikes Peak is now clearly visible dead ahead, and so the next set of corners (Turns 12 and 13) are known as the Pike. Turns 12 and 13 make a left-hand hairpin corner around a large sandstone monolith. The unnamed Turn 14, a recent implementation, is a right-hand curve that redirects cars back onto the frontstretch.